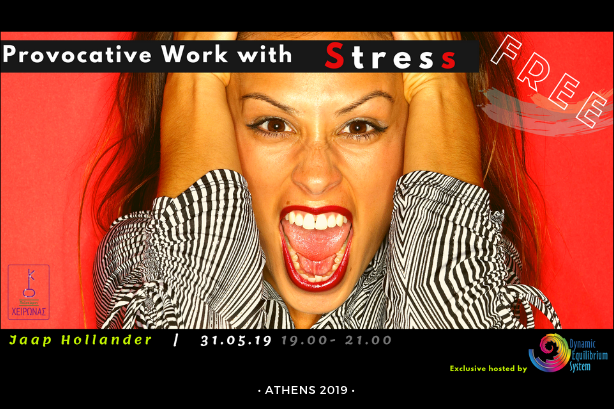 Provocative Work with Stress
Stress is a common complaint. Busy busy busy. There's no way you can get it all done. All those urgent deadlines…
Your heart is pounding, you're breaking out in a sweat. And you still have all day and all evening ahead of you.
For the professionals (trainers, coaches, HR-professionals): how can you support clients or employees with stress problems? Or do you have stress problems yourself (you probably do, don't you)? Come to this theme evening about provocative coaching. It's !
***************************************************************************
This is a FREE theme evening with Jaap Hollander, a provocative veteran and Dutch psychologist.
The theme evenings give everyone the chance to get acquainted with the provocative, challenging style of helping. The provocative training courses are for professionals. The theme evenings are for everyone. Innovative. Different. Hilarious. Warm. Challenging. Effective. Taught by Jaap Hollander. He works with people who come to the theme evening and who suffer from the complaint that is covered on that evening.
As a professional (coach, therapist, psychologist, HRM professional, healthcare professional, trainer, teacher) you will see how you can use the provocative approach in your work. You may also work a problem yourself if you want.
People who struggle with the problem in question receive free coaching / therapy. If you do not object, the sessions are recorded. If you do object, even afterwards, the recordings will be deleted without any hassle.
Three live demonstrations are given, followed by explanation and information about what provocative coaching entails.
****************************************************************************
Registration Form here