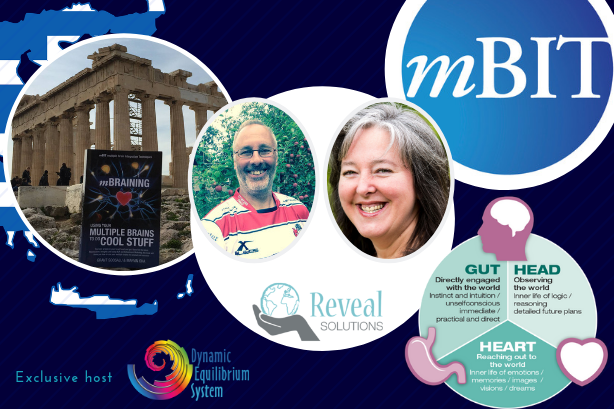 mBIT Coach Certification 2023
4 February 2023 @ 09:00

-

7 February 2023 @ 17:00
Be at the forefront of this coaching and performance revolution by becoming a Certified mBIT Coach. Accredited program by ICF (International Coaching Federation) with both ICF CCEU's & RP's.
Latest neuroscientific research shows that you have 3 brains!
We have 3 separate intelligences operating in our bodies and each has learned patterns, which can either be aligned or unaligned. How our multiple brains communicate and operate with each other is vital for our congruence, happiness and success.
Based on the latest research in neurogastroenterology, neurocardiology, cognitive neuroscience, behavioural psychology, NLP behavioural modelling and the synthesis of a range of ancient esoteric practices; this leading edge Coaching modality brings deep insights into how your multiple brains may produce conflict and what you can do to integrate them and enjoy fulfilling your potential.
This training is perfect for Professional Coaches of all types, counsellors, trainers and educators, leaders, managers, mentors and healthcare, business and sports professionals. It is for anyone who aims to facilitate themselves or others to achieve what can only be achieved when the head, heart and gut are aligned and congruent.
Learn…
• an entire suite of powerful and easy to learn 'multiple Brain Integration Techniques' collectively known as mBIT
• how to tap into the power of your head, heart and gut and innate wisdom
• how to recognise and interpret the different languages of your three intelligences
• how mBIT can streamline your coaching process to gain quicker, deeper and more generative results
• how to help your clients align their sympathetic and parasympathetic systems through balanced breathing
• how you can actively educate your gut and heart brains for greater intuition and decision making through the creation of new neural pathways
"You will get 200X more that what you expected to get from this course"
"If you want to get ahead or not really sure that you are being all you can be……sign up"
Trainers:
Reb Veale & Mark Deacon
From Reveal Solutions Training Ltd.
Reb & Mark have trained hundreds of coaches in over 9 countries in mBraining and the mBIT coaching model. For more information about mBIT: dynamicequilibriumsystem.com/mbitcoachcertification/
The program will be held in ENGLISH as a primary language and there will be live translation in Greek.
Training structure, Certification Requirements & more info here…