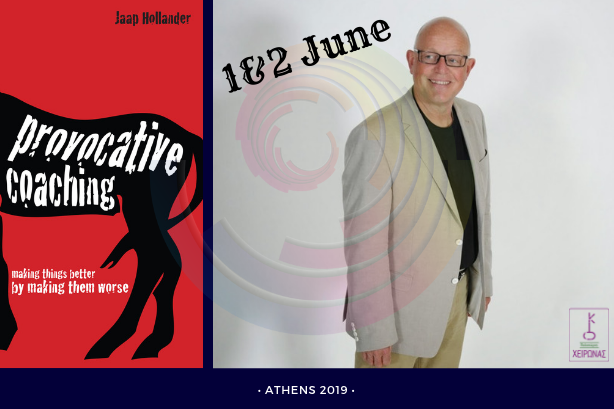 Provocative Coaching Αθήνα
Provocative Coaching
Challenging people in order to help them.
Provocative Coaching is a training for all professionals who work with people who struggle with change, achieving goals and unwanted repeated behavioral patterns. If you want to be even more resourceful in motivating others, this is a training for YOU!
To "provoke" means to elicit or call forth and the positive intention of a provocative approach is to call forth resources in the client. By gently teasing or challenging the client, a coach is aiming to call forth the client's own ability to assert themselves, to defend themselves, to demonstrate a sense of their own self-worth, to engage with their vulnerability for a positive purpose, to take responsibility for their own change.
The 3 most important things about Provocative work with people:
➊ Provocative work can be surprisingly fast and effective.
➋ It can work quite elegantly with clients who don't do well with conventional change work.
➌ It's fun!
Provocative coaching offers some new possibilities that you won't find in 'traditional' coaching or therapy. And yet it harnesses forces that most people will recognize intuitively. To understand one of its basic principles, think back of a moment in your life when you really wanted to do something, and someone said: "That's too difficult for you". Or maybe they said, "You are too old for that" or "You're too young". It doesn't matter what their reasoning was. They might have just said: "It isn't you!" Can you remember a moment like that? You really wanted to do something and someone important told you that you couldn't. What was your response? Most likely, it was something like: "You think I can't do that? We'll see about that!". "I'll show you what I can do!" And so, you ended up even more determined. Provocative therapy utilizes this kind of energy. It differs radically from 'classical' types of therapy like psychoanalysis, cognitive therapy, client centered therapy, or even from the newer approaches such as neuro-linguistic programming (NLP) or solution focused therapy. It challenges people
in order to help them grow, rather than trying to help them directly.
Provocative coaching is a distant relative of 'paradoxical intention' and 'reverse
psychology'. The coach encourages the client to do their problem more: do some more of that, think some more of that, feel some more of that! Where the other major approaches are mostly supportive ("I believe in you, you can do it"), the provocative coach discourages the client's goals (You can't be a good father, you have an ego like the Graf Zeppelin!"). And yet provocative coaching is not only confrontation. The challenges are presented with humor and warmth. This is what makes it quite different from simple confrontation. And this is also why people need training to learn how to do it.
The provocative coach represents and mirrors back to the client their own unhelpful behaviours, distorted thinking and repeating patterns to such an extent that the client will eventually disagree with and challenge their own self-limiting beliefs as manifested in the behaviour of the provocative coach. This approach can be useful to counteract any tendency for coaching sessions to become too "cosy" or for coaches to enable or reinforce their clients' unhelpful patterns of behaviour.
Video of Provocative Coaching
Interview with Jaap Hollander
To whom it may concern:
• Professional Coaches
• NLP Professionals
• Therapists
• Psychologists
• HR professionals
• Managers
• Healthcare professionals
• Trainers
• Teachers
Topics of the 2-day program
• What is Provocative Coaching?
• Where does it come from?
• What is the difference with the traditional style of coaching?
• Getting acquainted provocatively
• Common effects of Provocative Coaching
• Basic principles of Provocative Coaching
• Live demonstrations (with people from the group)
• Exercises to start doing
• Provocative starter kit
Facebook Event
Registration Form  
Jaap Hollander (1952)
Psychologist, Author, NLP Trainer, Provocative Trainer, MindSonar founder
Jaap is co-owner of the Institute for Eclectic Psychology, IEP, together with his wife and colleague Anneke Meijer. The IEP is Holland's oldest NLP institute (13.000+ people trained). Robert Dilts has been teaching for the IEP for 35 years.
He authored eleven books, amongst them 'Essentials of NLP' (Dutch, with Lucas Derks), 'Provocative Coaching' (English) and 'Trance and Magic' (Dutch, about modelling trance rituals in Brazil). He was on the Dutch Quote top 500 business advisors list for as long as it existed. He is a member of the NLP Leadership Summit.
Jaap studied with the founder of provocative therapy, Frank Farrelly, for more than 25 years. He developed a system (called the 'Farrelly Factors') for teaching provocative coaching. In the Netherlands he teaches a one- year training course in provocative coaching together with Jeffrey Wijnberg.
He co-created the 'Nano Tech Power Deck' together with Jennifer DeGand, Graham Dawes, Anneke Meijer and Aude Limet. The Nano Tech Deck is a card game that claims to be 'NLP in a box'. It can be used to do NLP with yourself. For a rοad game, it can have surprisingly profound effects. Try it.
Jaap teaches mostly in the Netherlands, but on occasion in other countries too, like Poland, the USA, England, Mexico, Colombia and Russia and, from June 2019, Greece.